Blood Sugar Support
Regular price
$43.49 CAD
Sale price
$34.79 CAD
Unit price
per
Sale
Sold out
About
Ingredients
Directions
Free of
CanPrev's Blood Sugar Support, a comprehensive daily formula containing herbs, antioxidants and extracts has been shown to support healthy blood sugar levels and counteract oxidative stress. As you breathe in oxygen, your cells produce energy and form highly reactive molecules called free radicals and oxidative stress occurs. When we don't have enough antioxidants (molecules that neutralize free radicals) in our bodies that we get from certain vitamins and minerals, free radicals can go on to damage vital cells and leave the door open to start many debilitating diseases.
Blood Sugar Support contains 200 milligrams of the potent antioxidant DL-Alpha lipoic acid and and 75 milligrams of grape seed extract to help fight against free radicals and relieve symptoms of swelling in the lower legs related to non-complicated chronic venous insufficiency (CVI).
Another concern diabetics have to be vigilant of is Insulin resistance. Having too much blood glucose in your system puts insulin production into overdrive and before you know it, you're insulin resistant - your cells no longer roll out the welcome mat when insulin tries to escort some friendly carbohydrate energy inside. Ingredients like gymnema extract, Chinese cassia cinnamon, fenugreek, and chromium in Blood Sugar Support tag team to help maintain healthy blood glucose level.

Medicinal Ingredients per capsule:
| | |
| --- | --- |
| DL-Alpha Lipoic Acid | 200 mg |
| Gymnema Sylvestre (25% gymnemic acid) | 100 mg |
| Cassia cinnamon (cinnamomum aromaticum) 10:1 | 100 mg |
| Fenugreek (trigonella foenum-graecum) 10:1 | 75 mg |
| Grape seed extract (85% OPCs) | 75 mg |
| Magnesium (magnesium bisglycinate) | 20 mg |
| Zinc (zinc citrate) | 3 mg |
| Chromium (chromium polynicotinate) | 166 mcg |

Non-medicinal ingredients: Vegetable-grade magnesium stearate, vegetable capsule.

Adults: Take 1 capsule 2 times per day with food, a few hours before or after taking other medications or as directed by a healthcare practitioner. For optimal results take for a minimum of 1 month. 

Consult a healthcare practitioner for use beyond 2 months.

Caution: Contraindicated in pregnant and breastfeeding women. As with any natural health product, you should consult a healthcare practitioner on the use of this product, especially if you are taking any medication or if you have a medical condition including diabetes, acid reflux, stomach or intestinal ulcers, or an allergy to cinnamon or Peruvian balsam. Discontinue use and consult a healthcare practitioner if you experience sweating, paleness, chills, headache, dizziness or confusion - these may be symptoms of serious low blood sugar. Consult a healthcare practitioner if symptoms persist or worsen. 
Hypersensitivity to cinnamon, irritation of the gastric mucous membranes or reflux may occur; in which case, discontinue use.

Keep out of reach of children. Store in a cool, dry place to preserve freshness.

Gluten, dairy, soy, GMO, animal products (vegan).
Share
---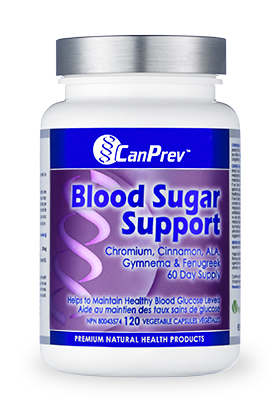 Choosing a selection results in a full page refresh.