Candidaide
Regular price
Sale price
$22.99 CAD
Unit price
per
Sale
Sold out
About
Ingredients
Directions
Free of

Candidaide comes highly recommended for a spectrum of distressing symptoms associated with Candida overgrowth. This powerful solution is tailored to address various discomforts, including inflammation in the digestive and respiratory tracts, skin reactions, headaches, joint pain, persistent fatigue, chronic infections (whether genital or urinary), fungal infections, Athlete's foot, and even heightened sugar cravings.
If you've been grappling with any of these symptoms that may be linked to Candida, Candidaide offers a holistic approach to restore your well-being. By targeting the root causes of these issues, Candidaide aids in rebalancing your system and provides relief from the discomfort caused by Candida overgrowth. Regain control of your health and vitality with Candidaide's comprehensive support and take the first step towards a healthier, symptom-free life..

DIN-HM 80041641

Composition: Argentum nitric 10x, Candida albicans 12x, Helonias dioica 8x, Sepia 10x, Silicea 10x, Thuja lobbi 10x, 20% vol Alcohol, Water USP.

Shake well before using.
General Dosage: 2 to 3 sprays under the tongue, 3 times daily, half an hour before meals or as directed by a health care professional.

Acute Cases: 2 sprays every hour. Reduce with improvement.

Caution: Consult a health care professional if symptoms don't improve after 7 days. Consult a health care professional before use if you are pregnant or breastfeeding. Store in a cool, dry place.
Share
---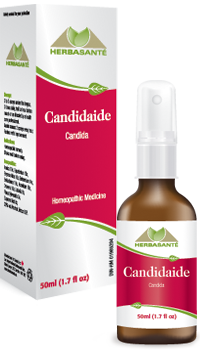 Choosing a selection results in a full page refresh.