Co Q10 SAP
About
Ingredients
Directions
Free of
This product is available by healthcare practitioner recommendation only. 
Co Q10 SAP supplies a daily dose of 200 mg of coenzyme Q10. CoQ10 has the ability to transfer electrons, and therefore acts as an antioxidant.
This product is made via fermentation, in which a microorganism naturally produces CoQ10. The CoQ10 is then extracted from the organism and concentrated. It is termed natural and not synthetic, since it is normally and naturally produced by the bacterium from which it was obtained.

Medicinal Ingredients: Each non-GMO vegetable capsule contains:
| | |
| --- | --- |
| Coenzyme Q10 (ubiquinone-10) (bacterial fermentation) | 100 mg |

Non-medicinal ingredients: Vegetable magnesium stearate and microcrystalline cellulose in a non-GMO vegetable capsule composed of vegetable carbohydrate gum and purified water. 2 capsules provide 200 mg of coenzyme Q10 (ubiquinone-10 from Japan, bacterial fermentation).
Third-party testing is performed on the finished product to ensure Co Q10 SAP is free of heavy metals, pesticides, volatile organics, and other impurities.

Adults: Take 1 capsule twice daily or as directed by your health-care practitioner.
Caution: Consult a health-care practitioner prior to use if you are pregnant or breastfeeding, if you are taking blood pressure medication, or if you are taking blood thinners. Adverse effects with CoQ10 supplementation are rare, with less than 1% of the patient population reporting GI discomfort.
There may be potential interactions with warfarin (Coumadin), and due to CoQ10s potential hypoglycemic and hypotensive effects, it may be prudent to discuss adjunctive use of CoQ10 with other medications with a health-care practitioner.
Preservatives, artificial flavour or colour, sugar, dairy, starch, wheat, gluten, yeast, citrus, or eggs.
Share
---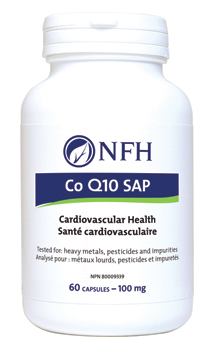 Choosing a selection results in a full page refresh.