Colflex Super Oregano Oral Spray (Arctic Mint)
Regular price
Sale price
$19.99 CAD
Unit price
per
Sale
Sold out
About
Ingredients
Directions
Free of

ColFlex Super Oregano Oil Spray is your ultimate companion for cough relief, soothing sore throats, and conquering travel-related discomfort. Packed with the goodness of essential spice oils like oregano and thyme, this oral spray is your natural remedy to combat persistent coughs and alleviate the irritation of a sore throat. When travel challenges have you feeling under the weather, reach for ColFlex for quick relief and a boost in well-being. Its unique blend of soothing ingredients offers a comforting solution to those on-the-go discomforts. Convenient and effective, ColFlex Super Oregano Oil Spray is your trusted travel buddy, helping you stay healthy and comfortable, wherever your adventures take you. Don't let coughs, sore throats, or travel issues hold you back. Embrace the natural relief of ColFlex and get back to feeling your best, no matter the journey ahead.

Lab tests show that ColFlex inhibited the growth of bacteria such as S. aureus and S. pneumonia after 27 minutes and inhibited the growth of E. coli and S. typhi after 9 minutes.

Medicinal Ingredients: 3 oral sprays contains:
Vitamin D3 (cholecalciferol)

150 IU

Thyme Oil (Thymus vulgaris)

Oregano Oil (Origanum vulgare)

Non-medicinal ingredients: Lemon Oil, Spearmint Oil, Olive Oil and Stevia.

For initial use - shake well and then press actuator down 3 or more times to prime pump with a new bottle.

Adults: Shake well then spray (1-3 pumps) under the tongue or back of throat and hold in your mouth for 20 seconds before swallowing. Use up to 6 times per day. For best results, use tongue to spread product all around mouth and gum area. Take with food and plenty of fluids. Take a few hours before or after taking supplements containing iron, zinc, calcium or copper.

Prevention: Use ColFlex 2-3 times per day for people in the service industry, educators, health care workers, business people, and others who come in direct contact with large numbers of people.

Caution: Consult a health care practitioner if symptoms persist, worsen or if you are pregnant or breastfeeding. Store away from children. Do not spray in eyes. Store in an upright position. Rinse spray nozzle under warm water if clogged.
Share
---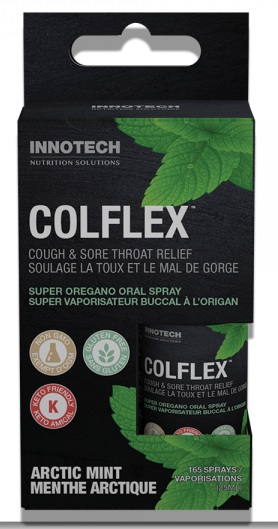 100%
of reviewers would recommend this product to a friend
Choosing a selection results in a full page refresh.