Concentrace Trace Mineral Drops
Regular price
Sale price
$22.49 CAD
Unit price
per
Sale
Sold out
About
Ingredients
Directions
Free of
ConcenTrace® is made from Utah's Great Salt Lake inland seawater, which contains, in the form of a balanced concentration of electrolytes, more than 72 bioavailable ionic trace elements, including magnesium. ConcenTrace® is ideal for active people.
Take ConcenTrace® daily to optimize your health!
In the absence of minerals, vitamins lose their beneficial properties. When it lacks vitamins, our body can still absorb minerals; on the other hand, our body needs minerals to absorb vitamins. Electrolytes are essential for our cells to work properly, and they contribute to maintaining our body's acid-base (pH) balance, which allows better assimilation of vitamins and nutrients.
Your Body Needs Minerals
Your body is powered by a very complex electric network. In order for it to stay balanced and perform at optimum efficiency, you need to constantly replenish yourself with minerals and trace elements. If you are one of the 90% of Americans who, according to experts, suffer mineral imbalance or deficiency, your electric network may lose efficiency so you feel rundown and tired.
An All-Natural Solution of Minerals and Trace Elements
ConcenTrace® is extracted directly from a natural source that took thousands of years to create. Over these millenniums, minerals have been broken down to their most natural state, and they have become naturally charged. These electrolytes are bioavailable and soluble in water. And this source precisely contains the same proportions of electrolytes as the organic fluids in the human body, without synthetically produced compounds or deadly heavy metals.
ConcenTrace®is a concentrate to be diluted in water or in your favorite beverage. It contains no added preservation, flavouring or sweetening agents. Ninety-nine percent (99%) of its sodium content has been removed by means of solar evaporation
Medicinal Ingredients per 40 drops (2.60 mL):
Magnesium (concentrated desalinated inland sea water from the Great Salt Lake, Utah)

260 mg

Plus the following trace elements, listed in descending order, as found in seawater: 

Sulfate, Sodium, Boron, Bromide, Calcium, Carbonate, Silicon, Nitrogen, Selenium, Phosphorus, Iodine, Chromium, Iron, Manganese, Titanium, Rubidium, Cobalt, Copper, Antimony, Molybdenum, Strontium, Zinc, Nickel, Tungsten, Germanium, Scandium, Tin, Anthanum, Yttrium, Silver, Gallium, Zirconium, Vanadium, Beryllium, Tellurium, Bismuth, Hafnium, Terbium, Europium, Gadolinium, Samarium, Cerium, Cesium, Gold, Dysprosium, Holmium, Lutetium, Erbium, Ytterbium, Neodymium, Praseodymium, Niobium, Tantalium, Thorium, Thallium, Rhenium.
Adults - Add 10 to 20 drops to a glass of water or beverage, once or twice a day. To remineralize distilled or reverse osmosis water, add 5 to 10 drops per litre.
Caution: Some people may experience a laxative effect that will disappear when reducing the dose. Pregnant or breast-feeding women: consult a health care practitioner prior to use.

Store in a cool, dry place to preserve freshness.

No gluten, lactose, soya, peanuts. Certified Vegan, non-GMO.
Share
---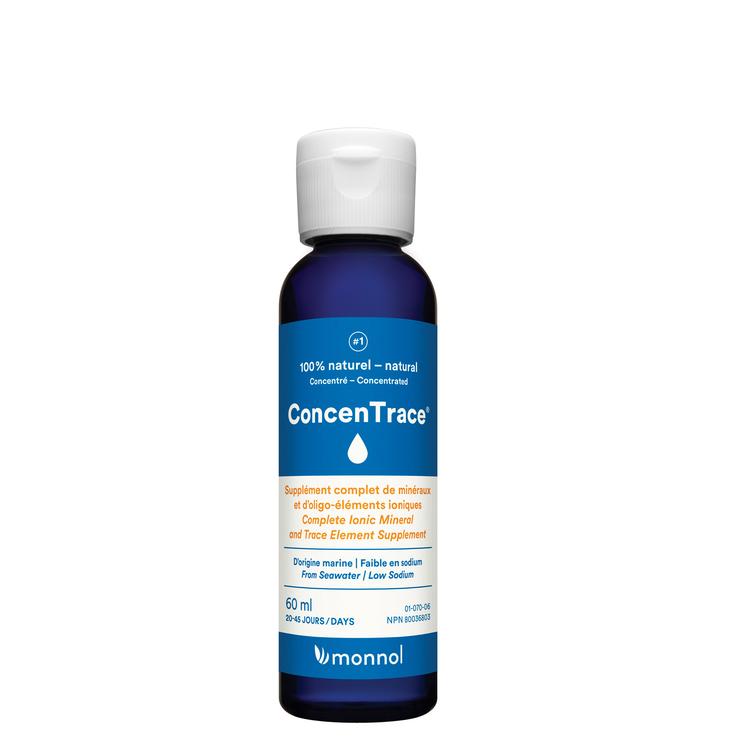 Choosing a selection results in a full page refresh.