Digestase 2.0
Regular price
Sale price
$43.49 CAD
Unit price
per
Sale
Sold out
About
Ingredients
Directions
Free of

Digestase 2.0 is a new and improved vegetarian enzyme formula containing a mixture of plant-based enzymes critical to digestion: amylase which digests long-chain polysaccharides, two types of protease which digest complex proteins, lipase which digests fats, and invertase digests sucrose. New additions to Digestase 2.0 include cellulase which digests cellulose fibres, lactase which digests lactose, and alpha galactosidase which digests oligosaccharides (like those found in beans and legumes) and reduces gas and bloating associated with such foods. Besides improving digestion, these enzymes can also reduce inflammation, and have been shown to speed up recovery times after injury.
Those who experience digestive discomfort or who are looking to improve gastrointestinal health, those with auto-immune or inflammatory intestinal conditions and athletes can benefit from Digestase 2.0. Digestase 2.0 contains enzymes from plant sources making it suitable for vegans.

Medicinal Ingredients: Each vegetable capsule contains:
| | |
| --- | --- |
| Amylase (from Aspergillus oryzae) | 3,000 DU*/75 mg |
| Protease (from A. oryzae) | 20,200 HUT*/40.4 mg |
| Protease (from Aspergillus niger) | 10.1 SAP*/9.4 mg |
| Alpha Galactosidase (from A. niger) | 86.67 GaIU*/8.7 mg |
| Invertase (from Saccharomyces cerevisiae) | 400 SU*/4 mg |
| Lactase (from A. oryzae) | 3,000 ALU*/30 mg |
| Lipase (from A. niger and Rhizopus oryzae) | 250 LU*/12.5 mg |
| Cellulase (from A. niger) | 600 CU*/8 mg |
*FCC-approved units

Non-medicinal ingredients: microcrystalline cellulose, maltodextrin, dextrin. Capsule: hypromellose.

Adults: Take 1 capsule three times a day with food or as directed by a qualified health practitioner.

Caution: Consult a health care practitioner for prolonged use, or prior to use if you have gastrointestinal lesions/ulcers, diabetes, if you are having surgery, or if you are taking anticoagulants, anti-inflammatories or other enzyme products. Discontinue use and consult a health care practitioner if symptoms persist or worsen. Headaches, heartburn, bloating and hypersensitivity (e.g. allergy) have been known to occur; in which case, discontinue use. Do not use if you are pregnant or breastfeeding.

Store in a cool, dry place.

Nuts, peanuts, sesame seeds, sulphites, mustard, dairy, eggs, fish, shellfish and any animal byproduct.
AOR guarantees that no ingredients not listed on the label have been added to the product.
Share
---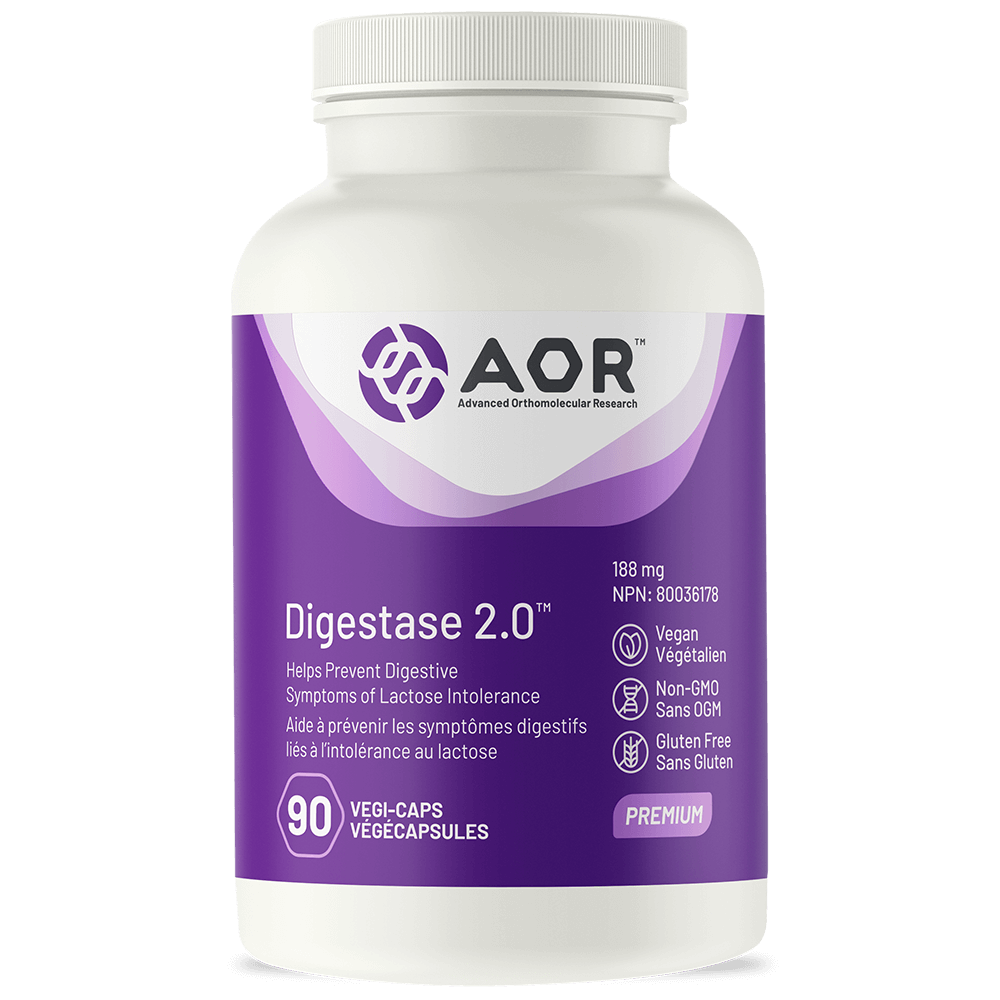 Choosing a selection results in a full page refresh.