Digestive Enzymes Ultra
Regular price
Sale price
$63.75 CAD
Unit price
per
Sale
Sold out
About
Ingredients
Directions
Free of
Digestive Enzymes Ultra contains an all-encompassing profile of vegetarian digestive enzymes. Proteases included in this formula provide optimal activity across a wide pH range. They facilitate the normal breakdown of proteins and di- and tri-peptides. Lipase promotes lipid breakdown while amylase and glucoamylase are included to stimulate polysaccharide breakdown of starch and glycogen. Invertase and lactase support digestion of carbohydrate disaccharides, including the dairy sugar lactose. This formula also offers numerous enzymes to support fiber breakdown, including cellulase, hemicellulase, beta-glucanase and phytase. These enzymes act to break down cell wall components and phytic acid, promoting nutrient bioavailability of fiber-containing foods. Additionally, alpha-galactosidase promotes the breakdown of certain complex carbohydrates, such as raffinose and stachyose, found in some vegetables, grains and legumes, helping to relieve occasional bloating or gas. Digestive Enzymes Ultra contains a high-strength mixture of vegetarian enzymes supporting enhanced protein, carbohydrate, fat, fiber and dairy digestion and promoting optimal nutrient bioavailability and absorption.

Medicinal Ingredients: Each vegetarian capsule contains:
| | |
| --- | --- |
| Alpha-amylase (aspergillus flatus var oryzae) | 80 mg |
| Protease (Aspergillus flatus var oryzae) | 56.73 mg |
| Protease (aspergillius niger) | 1.82 mg |
| Glucoamylase (aspergillus niger) | 12.5 mg |
| Lactase (beta-galactosidase-aspergillus flatus var oryzae) | 8 mg |
| Lipase (tricylglycerol lipase- Candida rugosa) | 5 mg |
| Beta-glucanase (trichoderma longibrachiatum) | 3.3 mg |
| Invertase (Saccharomyces cerevisiae) | 2.25 mg |
| Cellulose (Trichoderma longibrachiatum) | 2.22 mg |
| Alpha-galactosidase (aspergillus niger) | 2 mg |
| Phytase (Aspergillus niger) | 1.6 mg |
| Hemicellulase (aspergillus niger) | 0.125 mg |
| Vitamin C (Ascorbyl palmitate) | 2 mg |

Non-medicinal ingredients: Hydroxy propyl methylcellulose, Tapioca maltodextrin, cellulose, medium chain triglycerides.

Store in a cool dry area. Use only if safety seal is intact.

Adults: Take 1 capsule twice daily with a meal. Consult a healthcare practitioner for prolonged use.

Caution: Consult a healthcare practitioner prior to use if you are pregnant, breastfeeding, if you have diabetes or galactosemia, if you have gastrointestinal lesions/ulcers, are taking anticoagulant agents, inflammatory agents or other enzyme products or are having surgery. Headaches, heartburn, bloating and hypersensitivity (e.g. allergy) have been known to occur; in which case, discontinue use. Consult a healthcare practitioner if symptoms persist or worsen.
Magnesium stearate, gluten, hydrogenated fat, artificial sweeteners and colours, and other unnecessary excipients. Hypoallergenic.
Share
---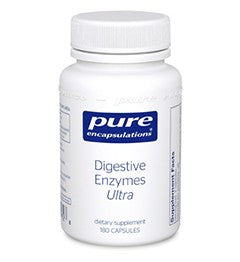 100%
of reviewers would recommend this product to a friend
Choosing a selection results in a full page refresh.