Estro Matrix
About
Ingredients
Directions
Free of
Discover the benefits of Cyto-Matrix's Estro Matrix, uniquely formulated to help maintain a healthy estrogen balance in the body. The human body is remarkable in its design and function, including its vital role in bodily detoxification. However, suboptimal liver and digestive tract function coupled with excessive exposure to xenoestrogens can lead to an estrogen-dominant state, which may have negative health implications. This is where Estro Matrix steps in.
Estro Matrix is crafted with a blend of 200 mg of I-3-C, 100 mg of DIM, 1500 mg of Calcium-D-Glucarate, and 100 mg of sulforaphane. This evidence-based combination targets hormonal support through the proper metabolism of estrogens and offers antioxidant protection against cell damage caused by free radicals.
The active ingredients in Estro Matrix are naturally occurring substances that promote proper estrogen detoxification and healthy hormone metabolism. Indole-3-carbinol (I-3-C), found in cruciferous vegetables such as broccoli and cauliflower, is known for its ability to support healthy estrogen metabolism and improve estrogen ratios in women with cervical disease. When metabolized, I-3-C provides multiple beneficial compounds like diindolylmethane (DIM) that effectively aid in detoxification.
Sulforaphane glucosinolate (SGS), similar to I-3-C and DIM, supports healthy cellular differentiation, induces phase 2 detoxification enzymes in the liver, and acts as an antimicrobial against certain pathogens. It also helps reduce estrogen receptor expression in breast tissues. Calcium-D-Glucarate is another compound present in foods like oranges and apples that aids in detoxification of excess hormones and toxins.
Estro Matrix is an ideal solution for supporting proper estrogen metabolism and promoting healthy cellular differentiation of breast and cervical tissues. It also acts as a symptomatic control in estrogen-dominant health conditions, improves xenobiotic detoxification, and supports liver function. Experience improved health with the beneficial properties of Estro Matrix.
Medicinal Ingredients: each capsule contains:
| | |
| --- | --- |
|  DIM | 33.3 mg |
| Indole-3-Carbinol | 66.7 mg |
| BroccoPhane® (sprouts, Brassica oleracea var. italica) | 33.3 mg |
| Calcium D-Glucarate (calcium saccharate) | 500 mg |

Non-medicinal ingredients: Vegetable-grade magnesium stearate, microcrystalline cellulose. Capsule: hypromellose.
Adults: Take 2 capsules, once per day or as directed by a healthcare professional.
Warnings: Do not use if safety seal is broken. Consult a healthcare professional prior to use, especially if you are taking other medications or natural health products and to exclude the diagnosis of a serious cause of hormonal imbalance. Consult a healthcare professional if you are attempting to conceive, have a liver disorder or symptoms of low estrogen (such as joint pain, mood changes, changes in libido, hot flashes, night sweats, vaginal dryness or irregular menstruations) or if you develop liver-related symptoms (e.g. yellowing of the eyes and/or skin, dark urine, abdominal pain, jaundice) or symptoms of low estrogen. If recurrent breast pain persists or worsen, consult a healthcare professional.

Contraindications: Do not use if you are pregnant or breastfeeding.


Gluten, GMOs, soy and dairy.
Share
---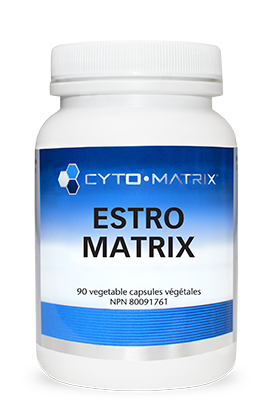 Choosing a selection results in a full page refresh.