Floradix Liquid Iron and Vitamins Formula
Regular price
Sale price
$27.99 CAD
Unit price
per
Sale
Sold out
About
Ingredients
Directions
Free of

Boost your vitality with Floradix Liquid Iron and Vitamin Formula, a comprehensive health solution designed to combat iron deficiency and uphold your well-being. Rich in iron and fortified with essential vitamins, this liquid health supplement aids in preventing anemia, a common health concern linked with fatigue, weakness, and compromised immunity. Our Floradix formula is a potent source of iron, a key mineral for the production of red blood cells and hemoglobin. Regular consumption can enhance red blood cell formation, ensuring they function optimally, thereby improving oxygen transport across your body. This invigorates you with renewed energy and stamina, making fatigue a thing of the past. But that's not all - our liquid iron formula is enriched with essential vitamins that further augment your health. These micronutrients aid in tissue formation, thereby supporting your body's repair and regeneration processes. They also play a crucial role in maintaining normal growth, making this formula beneficial for people of all ages, from growing children to adults. The Floradix Liquid Iron and Vitamin Formula is not merely a supplement; it's a catalyst to a healthier and more energetic you. Incorporate this nutrient powerhouse into your daily routine to keep iron deficiency at bay and promote robust health. Embrace the Floradix way of life and experience the noticeable uplift in your overall well-being.th.

Medicinal Ingredients - per 10 ml:
| | |
| --- | --- |
| Iron (from ferrous gluconate 87mg) | 10 mg |
| Vitamin B1 (from thiamine hydrochloride) | 2.5 mg |
| Vitamin B2 (from riboflavin sodium phosphate) | 4.0 mg |
| Vitamin B6 (from pyridoxine hyrdochloride) | 2.0 mg |
| Vitamin B12 (cyanocobalamin) | 7.5 mcg |

Non-medicinal ingredients: extracts of carrot, stinging nettle, spinach, couch grass, bitter fennel, kelp, hibiscus; juice concentrates of pear, black grape, black currant, orange, blackberry, cherry and red beetroot; in a base of honey, extracts of rosehip, wheat germ and yeast, natural orange flavour, purified water and ascorbic acid (antioxidant).

Adults and adolescents (ages 15 +): Take 10 ml twice daily before meals.
Children (age 10 - 14): Take 10 ml once daily before a meal.
Children (age 5 -9): Take 5 ml once daily before a meal.
Children (age 2 - 4): Take 4 ml once daily before a meal.

Caution: Do not use if you are allergic to Anethole or plants of the Apiaceae/carrot family. Consult a health care practitioner prior to use if you have a medical condition. For package size 250 ml: Keep out of reach of children. Do not contaminate the formula by drinking directly from the bottle. Once opened, keep bottle tightly closed and stored in refrigerator. Failure to refrigerate this product may cause the contents to expand and the bottle to shatter, which could result in the risk of serious injury. Consume within 4 weeks after opening. For package size 500 ml and 700 ml: There is enough iron in this package to seriously harm a child. Keep out of reach of children and keep sealed with childproof cap supplied.

Alcohol, artificial additives and preservatives, lactose and GMOs. Vegetarian friendly.
Share
---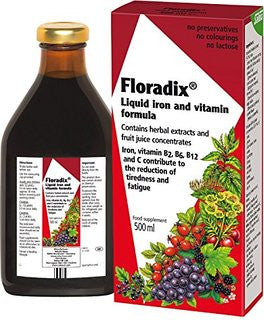 50%
of reviewers would recommend this product to a friend
I don't recommend this product
5 Stars
Excellent supplement! Easy on the tummy, which is awesome!
Choosing a selection results in a full page refresh.