HMF Baby B
Regular price
Sale price
$46.00 CAD
Unit price
per
Sale
Sold out
About
Ingredients
Directions
Free of
HMF Baby B probiotic supplement for breast-fed babies provides Lactobacillus salivarius, Lactobacillus paracasei, Bifidobacterium bifidum and Bifidobacterium animalis subsp. lactis, which help to support gastrointestinal health and support a favourable gut flora. HMF Baby B contains transgalactooligosaccharides (GOS), a fibre similar to oligosaccharides naturally occurring in breast milk. HMF Baby B powder dissolves easily into milk, breast milk, or water.
In a recent clinical trial, infants aged 0-6 months supplemented with probiotic strains included in HMF Baby B formula did not experience any increase in adverse event incidence, number of visits to the doctor, or mother's assessment of infant health.
Human MicroFlora (HMF) probiotic strains are research-driven and clinically proven in randomized, double-blind, placebo-controlled human trials at 10 billion CFU per day. Proprietary non-pathogenic human-sourced microflora bacterial strains are utilized as they have strong epithelial adherence and a naturally high tolerance to stomach acid.
This product does not qualify for free shipping as it requires overnight shipping to ensure that the product retains its quality. Please note that a standard, non-refundable overnight shipping charge will apply. Select the "Overnight - next business day" option at checkout to ensure that your product is shipped according to the manufacturer's recommendations. Selecting any other option is at the buyer's discretion. No refunds will be issued for products whose quality is compromised by the buyer selecting non-recommended shipping methods.

Medicinal Ingredients: each scoop (200 mg) contains:
| | |
| --- | --- |
| Probiotic Consortium | 10 billion CFU |
| Bifidobacterium bifidum | CUL-20 |
| Bifidobacterium animalis subsp. lactis | CUL-34 |
| Lactobacillus salivarius | CUL-61 |
| Lactobacillus paracasei | CUL-08 |

Non-medicinal ingredients: Transgalactooligosaccharides (GOS) (from milk). Contains: Milk .

Children (1-4 years): In a glass, add water or milk to one scoop of HMF Baby B and mix. Take once daily with a meal, at least two to three hours before or after taking antibiotics, or as recommended by your healthcare practitioner.

Caution: If you have an immune-compromised condition, do not use. If you are experiencing nausea, fever, vomiting, bloody diarrhea or severe abdominal pain, consult your healthcare practitioner prior to use. If symptoms of digestive upset occur, worsen or persist beyond three days, discontinue use and consult your healthcare practitioner.
Store under refrigeration (below 8 degrees celsius).
Wheat, starch, gluten, soy, artificial colouring and flavouring, and antimicrobial preservatives. Ideal for vegetarians.
Share
---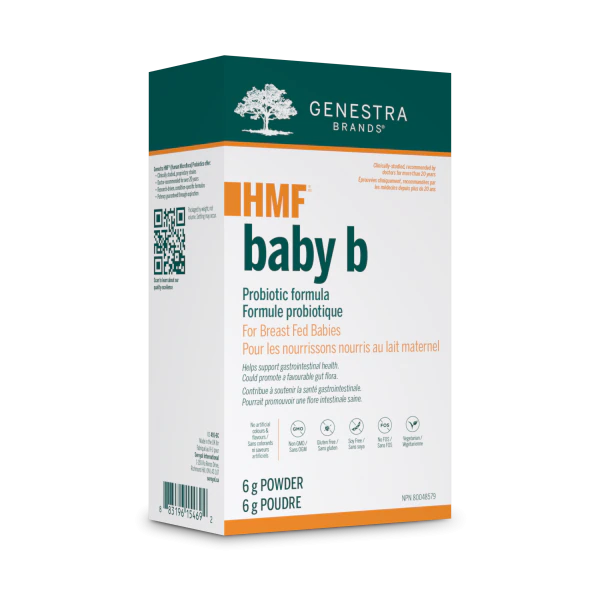 Choosing a selection results in a full page refresh.