HMF Replete
Regular price
Sale price
$65.75 CAD
Unit price
per
Sale
Sold out
About
Ingredients
Directions
Free of
Enhance your intestinal health with HMF Replete, a distinctive blend of proprietary human-sourced probiotics that bolster a balanced intestinal microflora. Your gut houses over 400 bacterial species, and maintaining an equilibrium is crucial for a thriving intestinal tract. HMF Replete, rich in Lactobacillus and Bifidobacterium, fosters a healthy microflora, supports normal intestinal microbiota, and fortifies digestive health.
With HMF Replete, you're receiving a scientifically-driven solution that's been clinically validated in randomized, double-blind, placebo-controlled human trials. Each serving delivers a robust 25 billion CFU, making it a potent ally for your gut health.
What sets HMF Replete apart is the use of proprietary non-pathogenic human-sourced microflora bacterial strains. These have been selected for their superior adherence to the gut lining and natural high tolerance to stomach acid, ensuring optimal gut health support. Harness the power of clinically-backed probiotics with HMF Replete, and promote an environment where beneficial gut bacteria can thrive for optimal digestion and overall well-being.
This product does not qualify for free shipping as it requires overnight shipping to ensure that the product retains its quality. Please note that a standard, non-refundable overnight shipping charge will apply. Select the "Overnight - next business day" option at checkout to ensure that your product is shipped according to the manufacturer's recommendations. Selecting any other option is at the buyer's discretion. No refunds will be issued for products whose quality is compromised by the buyer selecting non-recommended shipping methods.

Medicinal Ingredients: each sachet (20 g) contains:
| | |
| --- | --- |
| Probiotic consortium | 150 billion CFU |
| Lactobaccillus acidophilus | CUL-60 |
| Lactobacillus acidophilus | CUL-21 |
| Bifidobacterium bifidum | CUL-20 |
| Bifidobacterium animalis subsp. lactis | CUL-34 |
| Lactobacillus salivarius | CUL-61 |

Non-medicinal ingredients: Fructooligosaccharides (FOS), apricot powder

Adults: In a glass, add water to 1/2 sachet of HMF Replete and mix. Take one daily with a meal, at least two to three hours before or after taking antibiotics, or as recommended by your healthcare practitioner.
Caution: If you have an immune-compromised condition, do not use. If you are experiencing nausea, fever, vomiting, bloody diarrhoea or severe abdominal pain, consult your healthcare practitioner prior to use. If symptoms of digestive upset occur, worsen or persist beyond three days, discontinue use and consult your healthcare practitioner.
Do not use if outer seal is broken or missing. Store under refrigeration (below 8 degrees celsius).
Wheat, starch, gluten, soy, artificial colouring and flavouring, antimicrobial preservatives, dairy and animal products. Ideal for vegans.
Share
---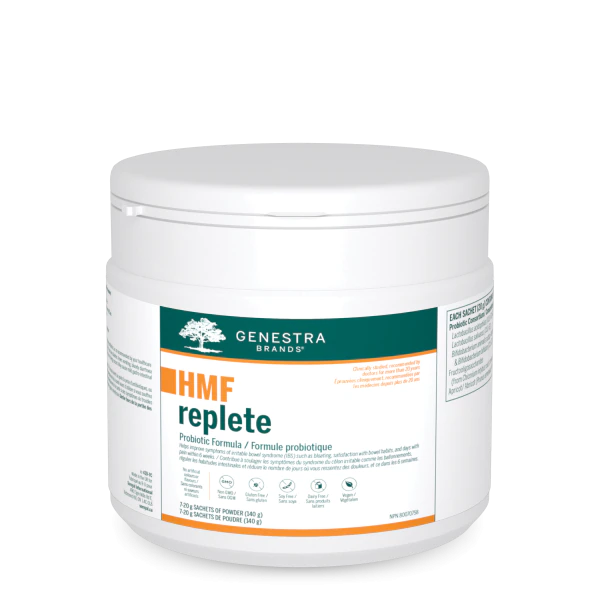 Choosing a selection results in a full page refresh.