Iron Matrix
About
Ingredients
Directions
Free of
This product is available by healthcare practitioner recommendation only. 
Cyto-Matrix's Iron Matrix contains iron in the chelated, bis.glycinate form, optimal for absorption and gentle action on the digestive tract. This greatly reduces the likelihood of unwanted complications during iron supplementation. Each capsule contains 20mg of elemental iron with additional vitamin C, B6, B12, folic acid, magnesium and copper to help in the absorption of iron from the digestive tract and aid in the production of healthy red blood cells.
Each vegetable capsule provides 20mg of elemental iron in a bis-glycinate chelate for optimal absorption and digestive tolerability
Additional vitamin C, B6, B12, folic acid, magnesium and copper added to improve iron absorption from the digestive tract and ensure proper red blood cell formation
Indicated for those with iron-deficient anemia and associated symptoms of fatigue, hair loss, poor cognition, low mood, weakened immunity and hormonal imbalance

Medicinal Ingredients: each capsule contains:
 Iron (Ferrochel

™ ferrous bis-glycinate chelate)

20 mg
Magnesium TRAACS

™ magnesium bis-glycinate chelate buffered (magnesium bis-glycinate chelate, magnesium oxide)



42 mg
Copper (TRAACS

™ copper bis-glycinate chelate)

35 mcg
Vitamin C (ascorbic acid)
300 mg
Vitamin B6 (pyridoxal-5-phosphate)
25 mg
Vitamin B12 (Methylcobalamin)
400 mcg
Folate (folic acid)
200 mcg

Non-medicinal ingredients: Vegetable-grade stearate. Capsule: hypromellose.
Adults: Take 1 to 2 capsules per day with food, or as directed by a healthcare professional. Take a few hours before or after taking other medications.
Warnings: Do not use if safety seal is broken. Keep out of reach of children. There is enough drug in this package to seriously harm a child.

Known Adverse Reactions: Some people may experience constipation, diarrhoea and/or vomiting.


Gluten, soy, GMOs, and dairy. Vegan.
Share
---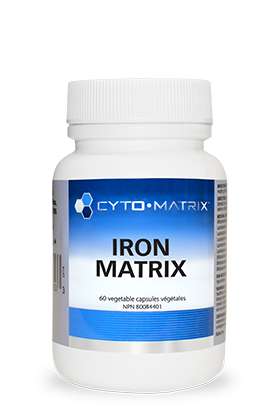 Choosing a selection results in a full page refresh.