Kidz Sleeping Disorders & Nervousness
Regular price
Sale price
$14.99 CAD
Unit price
per
Sale
Sold out
About
Ingredients
Directions
Free of

Introducing our Kids Homeopathic Remedy for Sleeping Disorders and Nervousness, a natural solution designed specifically with children's well-being in mind. This effective remedy helps manage temporary sleep disorders and nervousness, bringing relief to your child and peace of mind to you.
Children can sometimes struggle with restlessness, agitation, and sleep disruptions, all of which can be hard on them and the entire family. Our homeopathic remedy aims to facilitate sleep, reduce the frequency of nighttime awakenings, and relieve symptoms of nervousness. We understand the importance of a good night's rest for a child's development and have formulated this product to promote restful sleep.
But this remedy isn't just about sleep; it's also about promoting overall calm. By addressing nervousness and agitation, it supports a more relaxed state of mind. This balance between calming the nerves and promoting sleep makes our remedy a comprehensive solution for sleep-related challenges in children.
Our Kids Homeopathic Remedy for Sleeping Disorders and Nervousness is not just another product on the shelf. It's a product of careful research and understanding of children's health needs. Harness the power of homeopathy and trust in our remedy to help your child navigate through sleep disruptions and periods of nervousness, making their and your nights more restful and days more peaceful.

Ingredients: Composition of 120 mL contains:
| | |
| --- | --- |
| Passiflora incarnata 3DH | Nervous system sedative. Insomnia and restless and fatigue after mental work. |
| Chamomilla vulgaris 7CH | Child is restless, angry always in motion. Child wants to fall asleep. Feels better when being carried. |
| Cina artemisa 5CH | very restless sleep, night terrors, wakes frightened. Sullen child with bad temper. |
| Coffea cruda 7CH | Intellectual excitement and euphoria with insomnia. Child wakes up at night and wants to play. |
| Tarentula hispana 7CH | Sudden alteration of mood. Mostly constantly busy. Ungrateful and discontent. |
| Zincum val 7CH | Tremor in the extremities, twitching movements in the feet and legs. Nervous exhaustion. Weak memory. |

Non-medicinal ingredients: Purified water, sorbitol, glycerin, sodium benzoate, potassium sorbate, sodium cyclamate, citric acid.

To be taken orally.

For sleep disorders:
Newborn to 4 years old: 1/2 teaspoon at bedtime.
5 years and older: 1 teaspoon at bedtime.

For nervousness, agitation and restlessness:
Newborn to 4 years old: 1/2 teaspoon 3-5 times a day.
5 years and older: 1 teaspoon 3 to 5 times per day.

Caution: If insomnia persists for more than two weeks, consult a qualified healthcare practitioner. Insomnia may be a symptom of an underlying medical condition.
No known incompatibility with other medicines.
Share
---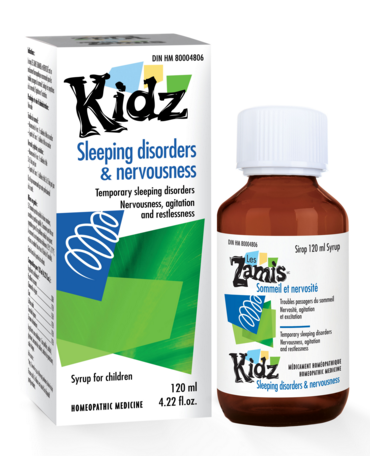 Choosing a selection results in a full page refresh.