Liver SAP
About
Ingredients
Directions
Free of
This product is available by healthcare practitioner recommendation only. 
Liver SAP contains a specialized formulation available exclusively through healthcare practitioner recommendation. Harnessing the power of premium botanical extracts and nutraceuticals, Liver SAP is meticulously crafted to nourish and revitalize liver function, shield against hepatotoxicity, and stimulate the regeneration of damaged hepatocytes. As the largest glandular organ in the body, the liver assumes a multitude of crucial roles, from regulating glucose, fat, and protein metabolism to maintaining optimal blood sugar levels and storing essential vitamins. Moreover, it serves as a vital component of the body's detoxification machinery, adeptly neutralizing external substances such as medications and alcohol, processing metabolic waste, and facilitating the breakdown of hormones including insulin. Remarkably, the liver possesses an unparalleled capacity for regeneration, making it the sole internal organ capable of renewing itself. Experience the transformative impact of Liver SAP as it supports your liver's multifaceted functions, ensuring vitality, protection, and an unwavering foundation for your overall well-being.

Medicinal Ingredients: Each non-GMO vegetable capsule contains:
| | |
| --- | --- |
| Milk thistle (Silybum marianum) 80% silymarin | 250 mg |
| Curcumin 95% curcuminoids | 125 mg |
| Alpha-lipoic acid | 100 mg |
| Artichoke (cyanara scolymus) 5% cynarin | 50 mg |
| Dandelion (taraxacum officinale) 3% flavanoids | 50 mg |
| Schizandra (9% schizandrin) | 50 mg |
| Calcium D-Glucarate | 50 mg |
| L-methionine | 50 mg |
| N-acetylcysteine | 25 mg |

Non-medicinal ingredients: vegetable magnesium stearate and silicon dioxide in a non-GMO vegetable capsule composed of vegetable carbohydrate gum and purified water.

Adults: Take 1 capsule twice daily with food or as directed by your health care practitioner. Use for a minimum of 3 weeks to see beneficial effects.

Cautions and warnings: Consult a healthcare practitioner for use beyond 6 weeks. Consult a healthcare practitioner prior to use if you have asthma, diabetes, gallstones, stomach ulcers, excess stomach acid, a bile duct obstruction or are taking anti platelet medication, blood thinners or beta blockers such as talinolol. Do not exceed recommended dose. Consult a healthcare practitioner prior to use if you have cystinuria; if you are taking nitroglycerin, antibiotics or any other medication; if you are attempting to conceive. Discontinue use if you develop symptoms of liver trouble.
Contraindications: Do not take if you are pregnant, breast-feeding or allergic to the Asteraceae/daisy family.
Known adverse reactions: Hypersensitivity, such as allergy, has been known to occur, in which case, discontinue use. May cause heartburn, nausea, or vomiting; in which case, discontinue use and consult a healthcare practitioner. Keep out of reach of children.
Preservatives, artificial flavour or colour, yeast, wheat, gluten, dairy or sugar. Third-party testing is performed on finished product to ensure Liver SAP is free of heavy metals, pesticides, volatile organics and other impurities.
Share
---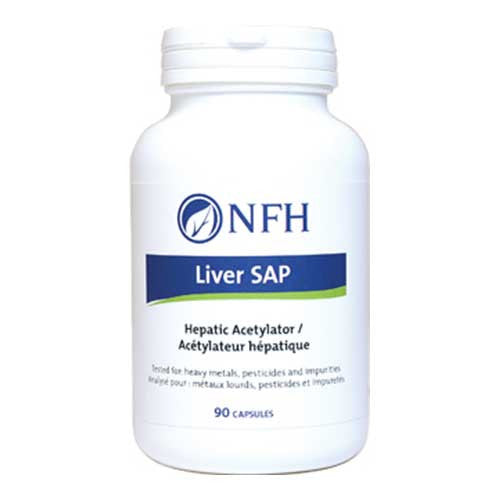 100%
of reviewers would recommend this product to a friend
Choosing a selection results in a full page refresh.