Ortho Core
Regular price
Sale price
$80.99 CAD
Unit price
per
Sale
Sold out
About
Ingredients
Directions
Free of

Ortho Core contains a broad spectrum of vitamins, minerals and phytonutrients. It includes vitamin A with optimal doses of various carotenoids. It contains B vitamins in their active forms, and vitamin C along with various bioflavonoids. It also contains all 8 vitamin Es, all of which have important roles and balance each other. Minerals in Ortho Core include zinc and copper in a balanced ratio, and important trace minerals such as boron, silicon and vanadium. To give the formula an extra edge, Ortho Core contains a number of health-enhancing phytonutrients backed by science including grape seed extract, EGCG from green tea, R+ lipoic acid and coenzyme Q10. AOR's Ortho Core contains superior forms of nutrients with balanced dosages based on scientific studies, ensuring that the nutrients work synergistically toward optimal health.

Medicinal Ingredients: Six (6) capsules contains:
Vitamin A Complex:

Retinol (palmitate)
110 mcg RAE (363 IU)
Natural Source Mixed Carotenoids:

Beta-carotene
900 mcg RAE/1.8 mg

Lutein esters
6.8 mg

Astaxanthin

2 mg

Lycopene

5 mg

Vitamin B Complex:

B1 (Thiamin)
9 mg
B2 (Riboflavin)
2.5 mg
B3 (Niacin - from 126 mg Inositol Hexanicotinate)
115 mg
B5 (calcium D-pantothenate)
100 mg
B6 (

Pyridoxal-5'-phosphate

)
100 mg
B12 (Cyanocobalamin)
647 mcg
Folic acid (calcium L-5-MTHF)
800 mcg
Biotin
300 mcg
Choline (bitartrate)
100 mg
Inositol (from Inositol, Inositol Hexanicotinate)
100 mg
Vitamin C (magnesium ascorbate)
120 mg

Vitamin D3 (Cholecalciferol)
25 mcg/1000 IU
Vitamin E Complex:

Mixed Tocopherols
(soy, min. 65% gamma)
100 mg

Vitamin E (from alpha-tocopherol)

7.1 mg AT/10.6 IU

Mixed Tocotrienols (palm)

10 mg

Vitamin K2:

120 mcg

MK-4

60 mcg

MK-7 (from soy)

60 mcg

Boron (citrate)

700 mcg

Calcium (carbonate, citrate malate)

300 mg

Chromium (picolinate)

100 mcg

Copper (citrate)

1.5 mg

Iodine (potassium iodide)

150 mcg

Magnesium (aspartate, oxide, ascorbate)

210 mg

Potassium (chloride)

50 mg

Manganese (bisglycinate)

2.3 mg

Molybdenum (Na molybdate)

45 mcg

Selenium (Selenomethionine)

55 mcg

Silicon (HVP chelate from soy)

5 mg

Vanadium (citrate)

18 mcg

Zinc (citrate)

11 mg

Phytonutrients & Antioxidants:

trans-Resveratrol

1.8 mg

Grape Seed extract (>85% oligomeric proanthocyanidins)

100 mg

R(±) lipoic acid (sodium salt)‰

150 mg

Coenzyme Q10 (ubiquinone-10)

30 mg

Green Tea extract (>45% EgCG, < 1% caffeine)

140 mg

N-Acetyl-L-Cysteine (NAC)

200 mg

Quercetin

65 mg

Mixed Citrus Bioflavonoids

25 mg

Non-medicinal ingredients: zeaxanthin, chlorophyllin copper complex, broccoli extract, microcrystalline cellulose, tocopherols, sunflower & palm oils, medium chain triglycerides, polyglycerol esters of fatty acids, starch (pea, rice, corn, soy), cellulose gum, acacia gum, sodium alginate, ascorbyl palmitate, sucrose, silicon dioxide, dicalcium and tricalcium phosphate, dextrin, maltodextrin, sorbitan stearate, hydroxypropyl cellulose. Capsule: hypromellose.

Adults: Take up to 6 capsules daily with meals, or as directed by a qualified health care practitioner. Take a few hours before or after taking other medications.

Caution:Consult a health care practitioner prior to use if you are taking blood thinners, blood pressure medication, antibiotics, nitroglycerin, or if you have diabetes, cystinuria, an iron deficiency or a liver disorder. Consult a health care practitioner if you develop symptoms of liver trouble (such as abdominal pain, dark urine or jaundice) or for use beyond 12 weeks. Do not take if you are pregnant or breastfeeding. This product contains soy. Do not take if you have a soy allergy.

Wheat, gluten, peanuts, sesame seeds, sulphites, mustard, dairy or eggs.
Share
---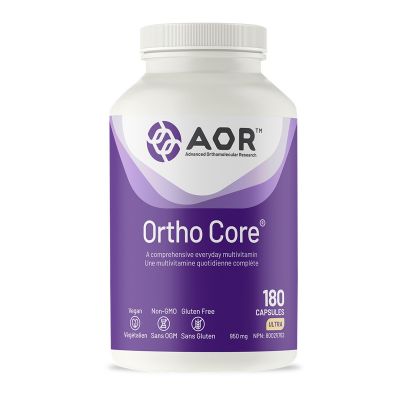 Choosing a selection results in a full page refresh.