Osteo SAP
About
Ingredients
Directions
Free of
This product is available by healthcare practitioner recommendation only. 
Osteo SAP supplies a compatible and complementary blend of New Zealand bovine microcrystalline hydroxyapatite (MCHA) calcium, minerals, vitamins, and amino acids to enhance bone-building osteoblasts, cells from which bones are formed. Osteo SAP contains the ideal elemental 2:1 ratio of calcium and magnesium with other cofactors to enhance calcium uptake for the prevention of osteoporosis. Osteo SAP supplies the most readily absorbable form of calcium phosphate (MCHA), the form found in human bones, and clinically proven to restore bone loss. It is free from pesticides, hormones, antibiotics and animal feed.

Medicinal Ingredients: Each vegetable capsule contains:
| | |
| --- | --- |
| Calcium hydroxyapatite (freeze-dried MCHA) | 583.33 mg |
| Calcium (from calcium hydroxyapatite*) | 145.83 mg |
| Phosphorus (from calcium hydroxyapatite*) | 72.83 mg |
| Protein (from calcium hydroxyapatite*) | 145.83 mg |
| Magnesium (from magnesium bisglycinate | 72.83 mg |
| Zinc (from zinc picolinate) | 1.67 mg |
| Manganese (from manganese citrate) | 500 mcg |
| Vitamin C (ascorbic acid) | 8.33 mg |
| Vitamin D (cholecalciferol) [166.67 IU] | 4.17 mcg |
| Boron (from boron citrate) | 500 mcg |
| Horsetail (Equisetum arvense), 7% silica | 4.17 mg |
| l-Taurine (2-aminoethanesulfonic acid | 8.33 mg |
| Glutamic acid hydrochloride | 8.33 mg |
| Copper (from copper gluconate) | 170 mcg (167 mcg for boron-free) |
| Vitamin K2 (menaquinone-7) | 16.67 mcg |
* From New Zealand beef. Guaranteed free of bovine spongiform encephalopathy (BSE) and recombinant bovine growth hormone (rBGH).

Non-medicinal ingredients: Vegetable magnesium stearate, silicon dioxide, dicalcium phosphate, gum arabic, sucrose, starch and sunflower oil.

Adults: Take 2 capsules three times daily with food or as directed by your health-care practitioner. If you are taking other medications, take this product a few hours before or after them.

Caution: Consult a healthcare practitioner prior to use if you are taking blood pressure medications such as cardiac glycosides or antiarrhythmic agents, or if you have been diagnosed with estrogen-dependent cancer. Do not use if you have deem due to a kidney or cardiovascular disease. For adult use only. Do not use if you are pregnant or breastfeeding or have excess stomach acid.
Preservatives, artificial flavour or colour, dairy, wheat, gluten, citrus or eggs.
Share
---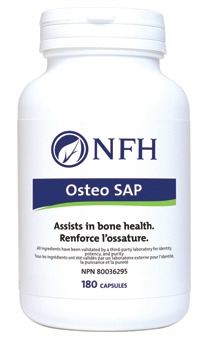 Choosing a selection results in a full page refresh.