Ox Bile SAP
About
Ingredients
Directions
Free of
This product is available by healthcare practitioner recommendation only. 
Bile is a fluid excreted by hepatocytes to aid digestion. Bile performs several vital functions such as excretion of lipid soluble toxins, emulsification of dietary fats to aid in their absorption, cholesterol metabolism, excretion of immunoglobulin A and inflammatory cytokines to initiate an immune response, facilitation of enterohepatic circulation including the transport of hormones and pheromones. Bile acids are responsible for lipid digestion and absorption in the small intestine, as well as transport of calcium and fat soluble vitamins. Traditional medicine has been using animal bile for treatment of various disorders for over 3000 years. Recent research has shed new light on therapeutic applications of bile acids and sources of enriched bile acids.  Ox Bile SAP is a formulation containing ox bile with high cholic acid content, that has been used in traditional medicine to help increase bile flow.

Medicinal Ingredients per capsule:
| | |
| --- | --- |
| Ox bile (from Bos taurus; cholic acid 45%) | 500 mg |

Non-medicinal ingredients: vegetable magnesium stearate, silicon dioxide, and microcrystalline cellulose in a non-GMO vegetable capsule composed of vegetable carbohydrate gum and purified water.

Adults:Take 1 capsule daily or as directed by your health-care practitioner. Take a few hours before or after taking other medications.

Caution:Not for prolonged use. Consult a health care practitioner for use beyond 4 weeks.
Known adverse reactions: Do not use if you are pregnant or breastfeeding. Do not use if you suffer from gastric reflux or have any gastrointestinal lesions/ulcers. Do not use if you have liver, gastrointestinal tract, or gallbladder disorders. Do not use if you have gallstones or a bile duct obstruction. 

Keep out of reach of children.
Gluten, soy, corn, wheat, eggs, dairy, yeast, citrus, preservatives, artificial flavour or colour, starch, or sugar.

Share
---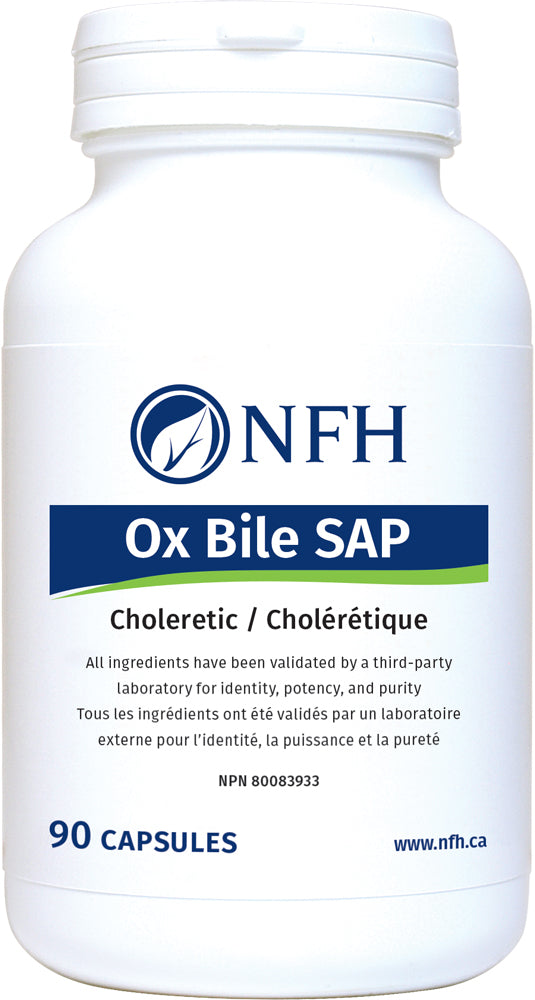 Choosing a selection results in a full page refresh.