Probiotic-5
Regular price
Sale price
$49.75 CAD
Unit price
per
Sale
Sold out
About
Ingredients
Directions
Free of
Each capsule of Probiotic-5 (dairy-free) provides 10 billion CFU of 5 beneficial bacteria strains Lactobacillus acidophilus, Lactobacillus rhamnosus, Bifidobacterium longum, Bifidobacterium bifidum and Bifidobacterium lactis. This formula combines lactobacilli and bifidobacteria to promote gastrointestinal (GI) tract health and comfort, immune cell function and overall health.
L. acidophilus and B. longum have been shown to promote healthy cytokine production in the colon and maintain healthy GI barrier function, in part by supporting the mucosal lining of the GI tract. Several trials have also revealed that mixed probiotic supplementation helps maintain intestinal flora, support healthy yeast balance, and promote GI comfort. A study involving elderly individuals indicated that a mixture of lactobacilli and bifidobacteria maintained healthy gut ecology. Studies suggest that probiotics support immune health, enhancing B cell, T cell and NK cell function. A randomized, double blind, placebo-controlled intervention study involving 479 adults suggests that B. longum and B. bifidum promotes overall health and T cell function. Another randomized, double blind, placebo-controlled clinical trial involving 25 elderly volunteers suggests that B. lactis encourages immune function by enhancing phagocytic capacity and activity.
This product does not qualify for free shipping as it requires overnight shipping to ensure that the product retains its quality. Please note that a standard, non-refundable overnight shipping charge will apply. Select the Overnight - next business day option at checkout to ensure that your product is shipped according to the manufacturers recommendations. Selecting any other option is at the buyers discretion. No refunds will be issued for products whose quality is compromised by the buyer selecting non-recommended shipping methods.

Medicinal Ingredients: Each vegetable capsule contains:
| | |
| --- | --- |
| Lactobacillus acidophilus (La-14) | 10 mg (2 billion CFU) |
| Lactobacillus rhamnosus (Lr-32) | 10 mg (2 billion CFU) |
| Bifidobacterium longum (BI-05) | 20 mg (2 billion CFU) |
| Bifidobacterium bifidum (Bb-06) | 20 mg (2 billion CFU) |
| Bifidobacterium lactis (BI-04) | 4.4 mg (2 billion CFU) |

Non-medicinal ingredients: Rice starch, Hydroxy propyl methylcellulose, Purified water.

Adults, adolescents, and children 6 years or older: Take 1-2 capsules daily. Take at least 2-3 hours before or after antibiotics.

Caution: Discontinue use and consult a healthcare practitioner if symptoms of digestive upset (e.g. diarrhoea) occur, worsen, or persist beyond 3 days. Consult a healthcare practitioner prior to use if you are experiencing nausea, fever, vomiting, bloody diarrhoea or severe abdominal pain. Do not use if you have an immune-compromised condition (e.g. AIDS, lymphoma, patients undergoing long-term corticosteroid treatment).
Allergens, artificial additives, dairy, soy, environmental contaminants, with no added excipients. Hypoallergenic.
Share
---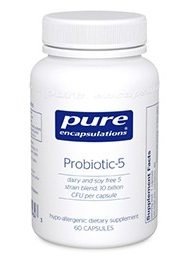 Choosing a selection results in a full page refresh.