Prostate SAP
About
Ingredients
Directions
Free of
This product is available by healthcare practitioner recommendation only. 
Prostate SAP is targeted as treatment and preventative therapy for any male over the age of 40 to help maintain a healthy prostate and urinary tract system. Prostate SAP can be used to help reduce benign prostatic hyperplasia. 
The average male will experience a concern with their prostate at some point during their lifetime. The condition known as benign prostatic hyperplasia (BPH) becomes increasing prevalent in men as they age, with 50% of men experiencing BPH by the age of 60, and 90% of men by the age of 85. This condition can cause a multitude of symptoms, including difficulty starting the flow of urine, discomfort with urination, and increased risk of urinary tract infections due to urine stagnation in the bladder, which may potentially lead to kidney damage. BPH can interfere with activities of daily living and have a serious impact in a male's life. Several herbs and nutrients have been studied that demonstrate the ability to prevent and treat BPH, and in many cases eliminate symptoms entirely.

Medicinal Ingredients: Each softgel contains:
Certified organic borage oil (Borago officinalis)

280 mg

Certified organic pumpkin seed oil (Cucurbita pepo)

200 mg

Saw palmetto (Serenoa repens) fruit liposterolic extract

185 mg

Stinging nettle (Urtica dioica) extract

120 mg

Rye flower pollen extracts

100 mg

Free plant sterols (from Glycine max)

100 mg

Providing 40 mg beta-sitosterol, 20 mg campesterol, and 20 mg stigmasterol

Cranberry (Vaccinium macrocarpon), 4.5% proanthocyanidins

50 mg

4.5% proanthocyanidins

50 mg

Vitamin B6 (pyridoxal-5'-phosphate)

25 mg

Tomato extract (Solanum lycopersicum), 10% lycopene

15 mg

Zinc (from zinc citrate)

10 mg

Selenium (from selenomethionine)

50 mcg
Non-medicinal ingredients: Certified organic extra virgin olive oil (100 mg) and mixed tocopherol concentrate (37.5 mg) (from soy)

Adults: Take 1 soft gel twice daily or as directed by your healthcare practitioner. Take with food to minimize gastric disturbance. If you are taking other medications, take this product a few hours before or after them. Consult a healthcare practitioner for use beyond 24 weeks.

Caution: Consult a healthcare practitioner prior to use to exclude a diagnosis of prostate cancer; discontinue use if symptoms persist or worsen. Consult a healthcare practitioner prior to use if you are taking blood thinners, or if you have a history of kidney stones. Do not use if seal is broken. Keep out of reach of children.
Preservatives, artificial flavour or colour, yeast, soy, wheat, gluten, dairy products, citrus, eggs sugar or starch.
Third-party testing is performed on finished product to ensure Prostate SAP is free of heavy metals, pesticides, volatile organics and other impurities.
Share
---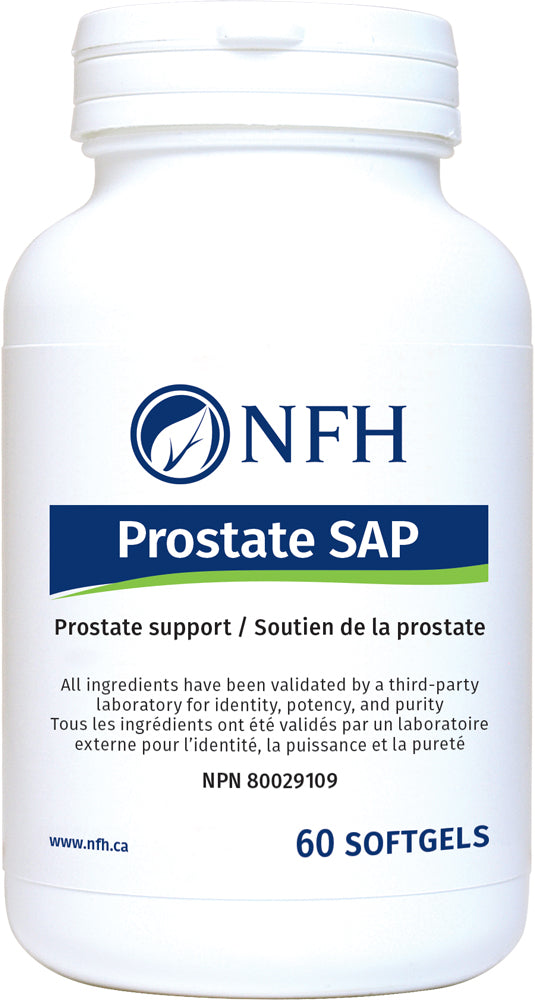 Choosing a selection results in a full page refresh.