Relax Matrix
About
Ingredients
Directions
Free of
This product is available by healthcare practitioner recommendation only. 
Introducing Relax Matrix, your natural path to tranquility and relaxation, now available at NutriChem. Experience a newfound sense of calm with this carefully crafted supplement designed to help you unwind and de-stress.
Relax Matrix combines a blend of soothing ingredients, including magnesium, L-theanine, and passionflower extract. These elements work harmoniously to promote relaxation, ease tension, and encourage a sense of inner peace.
Ingredients: Magnesium: Known for its calming properties, magnesium helps relax muscles and calm the nervous system. L-theanine: An amino acid found in tea leaves, L-theanine is renowned for its ability to promote relaxation without drowsiness. Passionflower Extract: This botanical ingredient has a long history of use in traditional medicine for its calming effects. Directions: For a calming effect, take 2 capsules daily, or as directed by your healthcare practitioner. Feel the serenity wash over you as Relax Matrix helps you unwind and melt away the stress of the day.
Prioritize your well-being with Relax Matrix and embrace tranquility as a part of your daily routine. Order now from NutriChem and discover the serenity that awaits you.

Medicinal Ingredients: each scoop contains:
| | |
| --- | --- |
|  Magnesium (TRAACS Magnesium Bisglycinate Chelate | 50 mg |
| Inositol | 650 mg |
| GABA | 50 mg |
| L-Theanine | 25 mg |
| L-Taurine | 200 mg |
| Vitamin B6 (pyridoxal-5-phosphate) | 1 mg |
| Vitamin B12 (methylcobalamin) | 25 mcg |
| Folate (L-5-methyltetrahydrofolate) | 25 mcg |

Non-medicinal ingredients: None.
Adults: Mix 1 scoop in 250ml water, 1 time per day or as directed by a healthcare professional.

Warnings: Do not use if safety seal is broken. Consult a healthcare professional prior to use, especially if you are pregnant or breastfeeding. Consult a healthcare professional if symptoms persist or worsen.

Gluten, GMOs, soy, and dairy. 
Share
---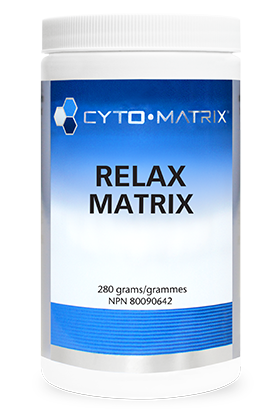 Choosing a selection results in a full page refresh.