SAMe (S-Adenosylmethionine)
Regular price
Sale price
$75.75 CAD
Unit price
per
Sale
Sold out
About
Ingredients
Directions
Free of
Provides 200 mg per capsule of enhanced-stability form SAMe
Manufactured using a solvent-free manufacturing process
Helps to promote healthy mood balance
Helps relieve pain due to osteoarthritis
Made with hypoallergenic, vegan ingredients
SAMe (S-adenosylmethionine) is a metabolite present in all living cells. It functions as a donor of methyl groups in over 100 different reactions and contributes to the synthesis, activation and/or metabolism of hormones, neurotransmitters, nucleic acids, phospholipids, and proteins. Methyl groups act as a signal throughout the body, regulating genetic expression and cellular function. SAMe also promotes healthy mood balance, as indicated in over 40 clinical studies. In a meta-analysis involving 25 controlled trials and 791 individuals, SAMe offered statistically significant support for positive mood, believed to be due to its support for neurotransmitter monoamine synthesis and function, including dopamine and serotonin. It also promotes healthy protein turnover and maintains healthy phospholipid methylation to support phosphatidylcholine production and cellular membrane integrity and fluidity. Studies suggest it supports joint flexibility and comfort in individuals with osteoarthritis as well. In a meta-analysis involving 11 studies, SAMe offered statistically significant support for joint function. It is believed to relieve osteoarthritis pain by supporting proteoglycan synthesis, as well as helping to stabilize and protect the proteoglycans.

Medicinal Ingredients::
| | |
| --- | --- |
| SAMe (from S-Adenosyl-L-Methionine disulfate tosylate) | 200 mg |

Non-medicinal ingredients: Vegetarian capsule (hypromellose, water), Hypoallergenic plant cellulose, Calcium oxide, Ascorbyl palmitate, calcium chloride.

Adults: For healthy mood balance, take 2 capsules, 1-2 times daily. For osteoarthritic pain, take 2 capsules 3 times daily. Take in divided doses, between meals, or as directed by a healthcare practitioner. For osteoarthritic pain, use for a minimum of 8 weeks to see beneficial effects. Consult a healthcare practitioner for use beyond 12 weeks.

Warning: Do not use if you are pregnant, breastfeeding, or have been diagnosed with bipolar disorder. Consult a healthcare practitioner prior to use if you are taking medication such as antidepressants, hepatoxic drugs or monoamine oxidase (MAO) inhibitors. Do not take at night, as the product may cause anxiety, restlessness and insomnia. Consult a healthcare practitioner if symptoms persist or worsen. Some people may experience mild gastrointestinal upsets, anxiety, restlessness, insomnia, hyperactive muscle movement, and hypomania, in which case discontinue use and consult a healthcare practitioner.

Vegan, hypoallergenic, non-GMO.
Share
---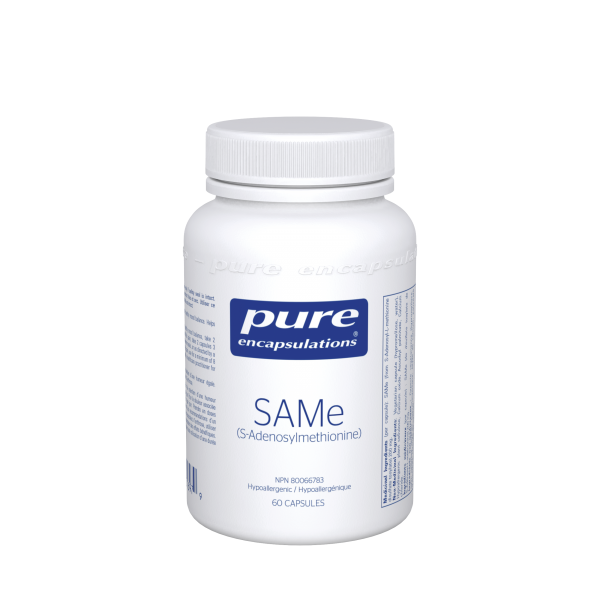 Choosing a selection results in a full page refresh.