SINUPAS
Regular price
Sale price
$42.99 CAD
Unit price
per
Sale
Sold out
About
Ingredients
Directions
Free of

SINUPAS is a homeopathic remedy for sinus congestion and inflammation.

NPN 80005068

Medicinal Ingredients: 1 g (46 drops) contains:
Luffa operculata (fruit) 4X

0.10 g

Stibium sulfuratum aurantiacum (Antimonium sulfuratum aurantiacum)
(antimony-(V)-sulfi de, sulphur) 8X

0.10 g

Euphorbium (hardened latex) mother tincture

0.001 g

Kreosotum (beech wood tar) 3X

0.001 g

Non-medicinal ingredients: Purified water, alcohol.

The drops should be taken diluted in some water.
Adults & Children 12 years and over: 10-30 drops 1-3 times a day;
Children (ages 6-11): 5-15 drops 1-3 times a day;
Children (ages 1-5): 5-10 drops 1-3 times a day;
Infants (0-11 months): 1-5 drops 1-3 times a day.
Acute dosing:
Every 15-60 minutes (up to 12 times a day) or until improvement of symptoms. Then resume general dosing.

General note: The effect of a homeopathic remedy may be compromised by harmful lifestyles and the use of irritative/pleasurable substances. If you are taking any other medications, discuss with your health care practitioner.

Caution: Consult a health care practitioner if symptoms persist or worsen. Like all medicinal products, SINUPAS should, for general safety considerations, be used during pregnancy or breastfeeding only after consulting a health care practitioner. Homeopathic remedies may transiently worsen existing symptoms (initial aggravation). If this occurs, stop this medicinal product and consult your health care practitioner. If you experience any side effects, please make sure to inform your health care practitioner.
Share
---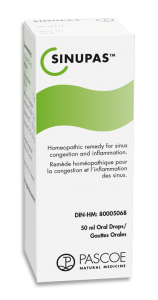 Choosing a selection results in a full page refresh.