Sleep 8
Regular price
Sale price
$34.99 CAD
Unit price
per
Sale
Sold out
About
Ingredients
Directions
Free of
PLEASE NOTE: This item is only available to destinations in

 

Canada or the United States. Any orders outside of these destinations will be cancelled and refunded.
Sleep 8 contains the most effective natural sleep aids to help rebalance your body's natural circadian rhythm. These have had a long history of safe, nonaddictive use.

Passionflower extract supports production of gamma-aminobutyric acid (GABA) to suppress excessive brain activity and induce relaxation; melatonin supports circadian rhythms that regulate sleep cycles; skullcap extract supports the nervous system; Magnesium, as highly bioavailable magnesium bisglycinate, supports the myelin sheaths that insulate nerve fibers and support nervous system function; catnip aids in relaxation; and Qiye Shen'an Pian herb supplies isolates which have been shown to be effective for the treatment of general anxiety disorder and insomnia.

Medicinal Ingredients: Each vegetable capsule contains:
Passionflower (Passiflora incarnata)
flower extract, 4% flavonoids

35 mg

Hops (Humulus lupulus)
strobile extract, 3.5% flavonoids

35 mg

Skullcap (Scutellaria lateriflora)
12.5% flavonoids

35 mg

Chamomile (Matricaria recutita)
flower extract, 5% flavonoids

35 mg

Qiye Shen'an Pian (Panax notoginseng) leaf extract

25 mg

Melatonin

500 mcg

Catnip (Nepeta cataria) herb top

15 mg

Magnesium (from 111 mg of magnesium bisglycinate)

20 mg

Non-medicinal ingredients: Vegetable magnesium stearate and silicon dioxide in a non-GMO vegetable capsule composed of carbohydrate gum and purified water.

Adults: Take 1-4 capsules at or before bedtime or as directed by your health-care practitioner. Consult a health-care practitioner for use beyond 4 weeks.

Caution: Do not use if you are pregnant or breastfeeding, taking immunosuppressive drugs or cyclosporine, or are allergic to plants of the Asteraceae/Compositae/Daisy family. Do not drive or use machinery for 5 hours after taking. Consumption with alcohol, other medications, and/or natural health products with sedative properties is not recommended.
Consult a health-care practitioner prior to use if you have depression, a hormonal disorder, diabetes, liver disease, kidney disease, cancer, endometriosis, cerebral palsy, seizure disorders, migraine, hypertension or if you are taking blood pressure, blood thinning, antidepressant or sedative/hypnotic medications. Consult a healthcare practitioner if symptoms worsen, or persist continuously for more than 3 weeks (chronic insomnia). Exercise caution if involved in activities requiring mental alertness. Hypersensitivity has been known to occur; in which case, discontinue use. Some people may experience drowsiness. Keep out of reach of children.
Share
---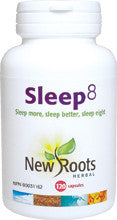 Choosing a selection results in a full page refresh.