Super 8 Plus Probiotic
Regular price
Sale price
$49.99 CAD
Unit price
per
Sale
Sold out
About
Ingredients
Directions
Free of

Designed with a high concentration of Lactobacillus acidophilus, this formula ensures that your body has adequate amounts of this important probiotic strain .L. acidophilus produces enzymes that help you digest proteins, carbohydrates and fats. This bacterial strain also produces lactic acid, which supports the gastrointestinal and immune systems. It can be found in yogurt and other dairy products, but it is available in higher concentrations in supplement form. Each capsule of Super 8 Plus Probiotic provides 11.25 billion colony forming units of L. acidophilus. If the body's supply of this important strain is too low, lactose intolerance often occurs.

This product does not qualify for free shipping as it requires overnight shipping to ensure that the product retains its quality. Please note that a standard, non-refundable overnight shipping charge will apply. Select the "Overnight - next business day" option at checkout to ensure that your product is shipped according to the manufacturer's recommendations. Selecting any other option is at the buyer's discretion. No refunds will be issued for products whose quality is compromised by the buyer selecting non-recommended shipping methods.

Medicinal Ingredients - Each capsule contains:
| | |
| --- | --- |
| Lactobacillus acidophilus HA-122 | 11.25 billion CFU |
| Lactobacillus rhamnosus HA-111 | 6.25 billion CFU |
| Lactobacillus rhamnosus HA-114 | 2.5 billion CFU |
| Lactobacillus plantarum HA-119 | 1.75 billion CFU |
| Bifidobacterium bifidum HA-132 | 1.5 billion CFU |
| Lactobacillus casei HA-108 | 0.75 billion CFU |
| Bifidobacterium longum HA-135 | 0.75 billion CFU |
| Lactobacillus salivarius HA-118 | 0.25 billion CFU |

Non-Medicinal Ingredients: Ascorbic acid, silicon dioxide, stearic acid, potato starch and hypromellose.

Adults: Take 1-3 capsules daily after meals or on a full stomach. Keep bottle refrigerated.

Caution: Discontinue use and consult a health care practitioner if symptoms of digestive upset (e.g. diarrhea) occur, worsen, or persist beyond 3 days. Do not use if your are experiencing nausea, fever, vomiting, bloody diarrhea or severe abdominal pain. Do not use if you have an immune-compromised condition (e.g. AIDS, lymphoma, patients undergoing long-term corticosteroid treatment). This product has come into contact with milk and soy lecithin. Do not use this product if you have milk or soy allergy. Keep out of reach of children.
Additives, yeast, fructooligosaccharides (FOS).
Share
---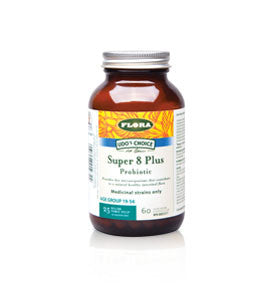 Choosing a selection results in a full page refresh.