ThyroCare
About
Ingredients
Directions
Free of
This product is available by healthcare practitioner recommendation only. 
ThyroCare is designed to provide adjunctive herbal and nutritional support for the thyroid gland. It is useful for maintaining healthy thyroid function and body temperature. ThyroCare is recommended in place of Thyroid Px for people who are sensitive to high levels of iodine, or cannot tolerate additional zinc.

EACH CAPSULE CONTAINS: Iodine (Potassium iodide) 200 mug, Selenium (selenomethionine) 100 mcg, Bladderwrack (Fucus vesiculosus) 250 mg, Blue flag root (Iris versicolor) 165 mg, Guggul Myrrh (Commiphora myrrh) 60 mg, Nettle herb (Urtica dioica) 50 mg, Amla fruit (Phyllanthus embolic) 13.3 mg, Bibhitaki fruit (Terminalia bellirica) 13.3 mg, Haritaki fruit (Terminalia chebula) 13.3 mg, Ginger root (Zingiber official) 10 mg, Diiodotyrosine (3,5 diiodotryosine) 200 mcg. Non-Medicinal Ingredients: Hypromellose vegi-caps.

Directions: Adults take 1 vegi-cap twice daily, or as directed by a healthcare practitioner. If seal around cap is broken or missing to do use. Consult a health care practitioner prior to use if you have diabetes, a kidney or urinary tract disorder, cardiovascular disease, a history of non-melanoma skin cancer, or if you are taking blood thinners. Do not use if you are pregnant or breastfeeding. Consumption with alcohol, other drugs, or natural health products with sedative properties is not recommended.Do not use if you are allergic to members of the iridaceae family. gastrointestinal upset and allergy is known to occur in which case, discontinue use. For prolonged use, consult a health care practitioner.
gluten, wheat, saturated fat, sugar, dairy, soy, yeast, corn
Share
---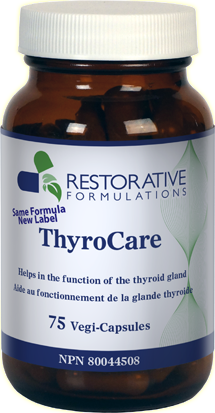 Choosing a selection results in a full page refresh.