Tri-Salts
About
Ingredients
Directions
Free of

USP Grade Tri-Salts is a nutritional supplement especially designed to neutralize increased acidity. This unique buffering agent contains nutritionally significant amounts of the essential macrominerals calcium, magnesium and potassium as carbonates and bicarbonates without sodium or other salts. Adequate amounts of essential macrominerals are necessary in order to support strong bones and teeth, a healthy nervous system, optimum muscular function, and cardiovascular health. Excess acidity over time can deplete your body's mineral reserves, causing a serious deficiency. Ecological Formulas' Tri-Salts is formulated especially to ensure the proper absorption and utilization of the minerals your body needs to balance your digestive system.
The minerals used in this product are of USP grade quality and are well tolerated by the most sensitive individuals. Tri-Salts may be mixed with Vitamin C crystals and the pH adjusted according to individual needs.

Medicinal Ingredients: each 1/2 teaspoon (~2.4 g) contains:
| | |
| --- | --- |
| Calcium (carbonate) | 450 mg |
| Magnesium (carbonate) | 250 mg |
| Potassium (bicarbonate) | 99 mg |

Adults: As a nutritional supplement, mix 1/2 teaspoon in water or desired liquid.

Caution: Consult a healthcare professional before use.
Share
---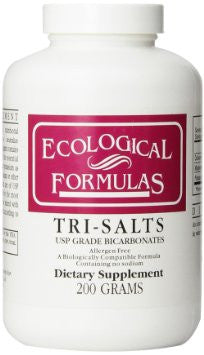 100%
of reviewers would recommend this product to a friend
Great product!
Great product, fast shipping
Great Product at a good price
Have used these Tri-
Salts for some time now.
So glad we found Nutrichem! We were paying twice as much for the same product before. Thanks for providing these tri-salts at a reasonable price!! Good service, fast shipping.
Great Experience
Easy to order. Good pricing. Nice to have bulk discount and free shipping over a certain $ amount. Order came quick.
Choosing a selection results in a full page refresh.