UltraFlora IB
About
Ingredients
Directions
Free of

UltraFlora IB is a clinically tested blend of friendly bacteria in a dairy free base. This advanced formula is designed to address gastrointestinal symptoms such as abdominal discomfort, bloating, cramping, and urgency. Backed by the Metagenics ID Guarantee for purity, clinical reliability, and predicted safety via scientific identification of strains with established health benefits. It helps relieve abdominal discomfort, bloating, cramping, bowel irritation, and occasional urgent bowel movements. It provides strain-identified probiotics that have been demonstrated effective for reducing bowel complaint frequency and improving reported quality of life.It promotes a healthy balance of GI microflora. It is a high potency formula providing a great value per dose.
This product does not qualify for free shipping as it requires overnight shipping to ensure that the product retains its quality. Please note that a standard, non-refundable overnight shipping charge will apply. Select the Overnight - next business day Option at checkout to ensure that your product is shipped according to the manufacturer's recommendations. Selecting any other option is at the buyer's discretion. No refunds will be issued for products whose quality is compromised by the buyer selecting non-recommended shipping methods.

Medicinal Ingredients: Each capsule contains:
| | |
| --- | --- |
| 60 billion CFUS: | |
| Bifidobacterium lactis Bi-07 | 30 billion CFUs |
| Lactobacillus acidophilus NCFM strain | 30 billion CFUs |

Non-medicinal ingredients: Cellulose, Hypomellose, magnesium stearate (veg.), and silicon dioxide.

Adults: Take one capsule daily or as recommended by your healthcare partitioner. Take at least 2-3 hours before or after antibiotics.

Caution: Discontinue use and consult a healthcare practitioner if symptoms of digestive upset (e.g. diarrhea) occur, worsen, or persist beyond 3 days. Consult a healthcare practitioner prior to use if you have nausea, fever, vomiting, bloody diarrhea or severe abdominal pain. Do not use if you have an immune-compromised condition (e.g. AIDS, lymphoma, patients undergoing long-term corticosteroid treatment). Best if kept refrigerated. Do not use if perma seal is broken.
Share
---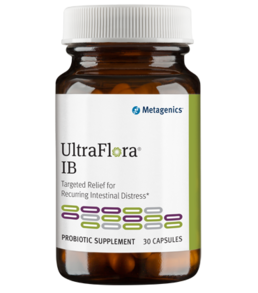 Choosing a selection results in a full page refresh.