Unda 20
Regular price
Sale price
$26.00 CAD
Unit price
per
Sale
Sold out
About
Ingredients
Directions
Free of

Discover the UNDA Numbered Compounds, the only complex remedies of their type synergistically formulated with plant constituents and potentized metals. These unique remedies target specific organs, carrying out enzymatic and metabolic functions on a cellular level to facilitate the drainage of toxins. With its foundation in the integrated principles and theories of anthroposophy, oligotherapy, botany, Traditional Chinese Medicine, and homeopathy, each remedy exhibits its own distinctive fingerprint, working harmoniously to support your health.
UNDA Numbered Compounds are indispensable in Biotherapeutic Drainage as they operate on a physiological and terrain level, making them an excellent addition to any preventative or therapeutic health strategy. Rooted in over half a century of tradition from Belgium, UNDA is celebrated for creating outstanding homeopathic products to support immune, lymphatic, and endocrine systems. Utilizing only pure, biodynamically grown, or wildcrafted materials and herbs, UNDA is dedicated to manufacturing a diverse range of homeopathic products in various potencies.
Among these powerful remedies is UNDA 20, a homeopathic medicine designed for conditions characterized by signs of autointoxication, which may result from digestive, hepatic, or cutaneous insufficiency, gallbladder operations, renal and biliary calculi, duodenal ulcers, and hepatic indurations.
Incorporate the UNDA Numbered Compounds into your health regimen to leverage the power of potentized metals and plant constituents, working in harmony to enhance your wellbeing.


Ingredients: each drop contains equal parts of:
Calendula officinalis 4X
Condurango 4X
Jacaranda caroba 4X
Robinia pseudoacacia 4X
Sabina 4X
Aluminum metallicum 12X
Argentum metallicum 12X
Arsenicum metallicum 12X
Aurum metallicum 12X

Non-medicinal ingredients: Ethanol, purified water. Alcohol content 25%.

Adults: Take 5 drops three times daily, 20 minutes before or after meals or as directed by your health professional. Place drops directly onto tongue or in a small amount of water.

Caution: If you are pregnant or nursing a baby, seek the advice of a health professional before using this product. If symptoms persist or worsen, consult a health care professional. Keep this and all drugs out of reach of children. In case of accidental ingestion, seek professional assistance or contact a poison control centre.
Share
---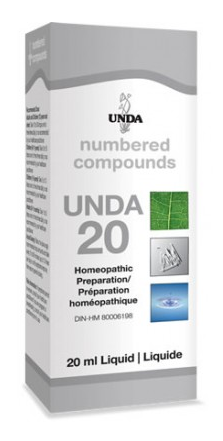 Choosing a selection results in a full page refresh.